South Carolina Speeding Ticket
Advertising

FREE STANDARD WILL, LIVING WILL AND POWER OF ATTORNEY WITH MEMBERSHIP
Get Access to a Team of Attorneys for only $24.95/Month
Family Plan Covers You, Your Spouse and Minor Children

See Plan Details
Advertising
CLICK HERE IF YOU NEED SOUTH CAROLINA TRAFFIC TICKET ATTORNEY LEGAL HELP NOW!
A South Carolina speeding ticket is considered a criminal offense. At the stop you are technically under arrest but normally allowed to continue on your way. The officer has the right to ask you and any passengers to exit the vehicle. He also has the right to "pat" you down for weapons if he has reason to fear for his safety. He may also ask for your consent to search your vehicle. How to act during the stop is fully covered in our article South Carolina Traffic Stop
The right to "pat" you down is called a Terry stop or Terry frisk. For more information on the case Terry v. Ohio see
Traffic Stop Search and Seizure
You do not have the right to ask to see the radar unit so do not even ask. Since many stops are on tape, you should not say or do anything that would prevent you from later contesting the South Carolina speeding ticket in court.
Your first step is to determine the exact charge and the consequences to your pocketbook. Insurance companies look closely at your driving record and just one ticket can dramatically increase your insurance premiums for three years. Look at the statute number on the ticket and find the exact law at the South Carolina Speeding Ticket Laws. Read the statute carefully to be sure that you understand the violation. If it is a city code then you may have to go to city hall or the local library.
If you are a SC driver, the violation points for a speeding ticket are listed below. If you are from another state, your own DMV can advise how it will be treated when the SC speeding ticket is entered on your record. Speeding 25mph+ over the limit can be considered a reckless driving violation.
Generally you should always contest a traffic ticket but that is an individual decision based on your specific circumstances. Check the court date on the ticket and make arrangements well in advance of your court date. Unless it is a mandatory court appearance, the officer will write the amount of the fine on the ticket. If you decide to plead guilty, simply send a money order to the court so that it reaches the clerk before your court date since the court will not accept a personal check. We suggest sending it certified and keeping a copy with your tax papers.
You cannot discuss your speeding ticket with the judge prior to your court date. You must either appear, pay the fine, retain a South Carolina traffic ticket attorney or enter a not guilty plea by mail or fax. If you appear, you are usually offered a reduction in the points and fine in return for a guilty plea and immediate cash payment. If you are not satisfied with the offer, you still have the option of pleading not guilty and also of requesting a jury trial.
South Carolina traffic tickets are handled either by city court or the county magistrate court. The court date on the ticket is an arraignment where you either negotiate or plead not guilty. If you request a jury trial the court will advise you in about two weeks of your actual trial date. If you intend to plead not guilty then you can skip the arraignment and a day in South Carolina traffic court by either mailing or faxing in a plea of not guilty. Be sure that you talk to the clerk to verify receipt. Your South Carolina speeding ticket usually will not be dismissed if the officer is not present at the arraignment. However, it doesn't hurt to ask the judge to dismiss. Some courts will hold a trial by judge on your first court date. Unless you have an excellent defense, this normally results in a guilty verdict.
South Carolina does not have a deferment or traffic school option where your speeding ticket will not be entered on your driving record. Some cities will allow traffic school but normally this takes the assistance of an attorney. There are also some city ordinances, usually "careless driving", that are not reported to the South Carolina Department of Motor Vehicles. The clerk of court is your best source of information on a particular judge and the court procedures.
If you request a trial, the officer normally will act as the prosecutor. If he does not appear, you can request dismissal for "non-prosecution" and the judge should grant your motion but some judges will give the state a continuance. If you decide on a trial, you should retain a South Carolina traffic attorney. That is how they earn their living and they know the "ins and outs" of the judicial system. Of course, you are just interested in the "outs". Never, ever represent yourself where there is the possibility of jail time or a license suspension.
If you decide to "go it alone" then you need to commit to the time and effort necessary to prepare your defense. Start by attending a similar speeding ticket trial. The clerk can give you the court schedule. Discovery is not allowed in South Carolina traffic court but you can do a Freedom of Information request and also subpoena the records for court. Good luck!
South Carolina Speeding Ticket - Out of State License
South Carolina reports speeding tickets to all fifty states. Generally the ticket will be entered on your record and points will be assessed just as if you received the speeding ticket in your home state. A few states do treat out of state tickets differently so the only way to be sure is to contact the DMV of your home state.
North Carolina License - SC Speeding Ticket Special warning to North Carolina drivers with a South Carolina speeding ticket. The officer will probably tell you should just pay the ticket. This can be very bad advice. North Carolina will suspend your drivers license for a 15mph or over violation and any violation over 10mph can increase your insurance premiums. Hiring a speeding ticket attorney or appearing in court may save you a lot of trouble and money down the road. We get calls constantly from North Carolina drivers who have paid their South Carolina speeding ticket and then find out their license is suspended. After you pay the ticket it is too late.
SPEEDING TICKET ATTORNEYS



If you are a CDL driver, just one serious South Carolina speeding ticket may put your job at risk. Insurance companies will increase your South Carolina auto insurance premiums based on your driving record. You need to evaluate the total cost of a SC speeding ticket and not just the amount of the fine or the cost of legal representation.
If you have a ticket, contact one of the following South Carolina traffic attorneys. Speeding ticket legal representation in South Carolina usually runs between 300 and 1000 dollars depending on your specific situation and whether the case goes to a jury trial. It is very difficult to get a speeding ticket dismissed but an SC attorney may be able to negotiate a reduction in the traffic ticket fine and points and you will avoid a court appearance. Since a SC speeding ticket stays on your record for three years, it may be cheaper to pay an SC traffic attorney rather than your insurance company.
These attorneys handle DUI, Speeding, Reckless Driving, and other SC traffic related issues.
Greenville Traffic Lawyer
Call
Wayne Patterson
P.O. Box 14757
Greenville, SC 29610
Phone: 864-270-7973

Wayne Patterson is a traffic, DUI and personal injury lawyer covering Greenville, Pickens, Greer, Spartanburg, Laurens, Anderson, Clemson and Duncan.
Lawyer.com Featured: Lloyd Wayne Patterson, South Carolina Speeding Ticket Attorney
Columbia Attorney
The Lord Law Firm, LLC, located in Irmo, South Carolina near Columbia provides experienced, effective defense statewide to South Carolinian's and residents of North Carolina, Georgia, Florida, Alabama and other states who have received traffic tickets or been charged with a DUI offense in SC.
LORD LAW FIRM, LLC
7436 Broad River Road
Bldg. 1, Suite 110
Irmo, SC 29063-7601

Toll Free: (877) 407-4140
Website: SC Traffic Ticket Defense
Ray is a former police officer and assistant solicitor handling Traffic Violations and Speeding Tickets, DUI, DUAC, BUI and Traffic Defense, Criminal Defense, and personal injury cases mainly in Richland, Lexington, Newberry, Clarendon, Lee, and York counties but regularly appears in all state and city courts.
SC DRIVER'S LICENSE POINT SYSTEM
The SC Driver's License Point System is based on the 12 points similar to most states. When you accumulate 12 or more points your drivers license is suspended. VIOLATION - POINTS
Reckless driving - 6
Passing stopped school bus - 6
Hit-and-run, property damages only - 6
Driving too fast for conditions, or speeding:
(1) No more than 10 m.p.h. above the posted limits - 2
(2) More than 10 m.p.h. but less than 25 m.p.h. above the posted limits - 4
(3) 25 m.p.h. or above the posted limits - 6

Disobedience of any official traffic control device - 4
Disobedience to officer directing traffic - 4
Failing to yield right of way - 4
Driving on wrong side of road - 4
Passing unlawfully - 4
Turning unlawfully - 4
Driving through or within safety zone - 4
Failing to give signal or giving improper signal for stopping, turning, or suddenly decreased speed - 4
Shifting lanes without safety precaution - 2
Improper dangerous parking - 2
Following too closely - 4
Failing to dim lights - 2
Operating with improper lights - 2
Operating with improper brakes - 4
Operating a vehicle in unsafe condition - 2
Driving in improper lane - 2
Improper backing - 2


LAZER AND RADAR DETECTORS
If you already have one speeding ticket on your record, I recommend that you purchase a radar detector. They are not an excuse to speed, they are to help you from receiving an inadvertent ticket. Purchasing a quality radar detector and learning how to use it can help prevent future tickets.

AUTO ACCIDENTS
If you drive in South Carolina, there is a very good chance that you will be involved in an auto accident. The state has the third worst drivers in the entire United States and is first in traffic fatalities. It ranks seventh in the nation for speeding and careless driving.  There is an auto accident in South Carolina every 4.4 minutes and a fatal car crash every 11.6 hours. In other words, the roads in SC are very dangerous. Click on the link below for information on auto accidents and personal injury lawsuits in SC.
SPEED TRAPS
CHARLESTON MT. PLEASANT SPEED TRAP Mt. Pleasant police are using a beat up pickup truck to sneak up on surprised motorists and issue speeding tickets. Police seized the V-6 powered domestic long-bed truck in a drug raid. They then equipped it with blue police lights and tinted windows, making it very hard to identify as a legitimate police vehicle.
Mt. Pleasant continually runs radar on I-526, especially the Eastbound lane. The newest trap is to park an old white van in the median and hit you with laser, especially on weekends and holidays.
Roadblocks and checkpoints at night are common in Charleston and Mt. Pleasant.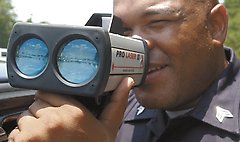 The South Carolina Highway Patrol and some cities are starting to use Laser guns to issue speeding tickets. Radar detectors don't work with Laser since by the time it alerts, they already have your speed locked.
S.C. 170 and 46 in Bluffton, SC "Be careful when you're traveling on 170 to Savannah. As you approach the circle, it drops from 55 to 35 quickly, barely any warning. A cop sits in one of the islands, waiting for you to come around the bend, with the radar gun out the window waiting. A huge revenue trap." National Motorists Association

Turberville This small town in Clarendon County with a population of 804 of has raked in about $1 million a year in traffic fines for 13 years, writing more tickets than cities that are 20 times bigger.
Turbeville is on U.S. 378, a major route for tourists headed to Myrtle Beach from Columbia and the Midlands. Covering only 1.3 square miles and originally called Puddin' Swamp, Turbeville is also near the U.S. 378 exit off of Interstate 95, funneling even more tourists through the tiny town. The State Newspaper

Cottageville Speed Trap. The four lanes go to two on Highway 17 and the speed limit goes from 55 to 45, then from 45 to 35 mph. Traffic tickets are the town's largest revenue source. 
Newberry County on I-26 especially at the rest areas near the 62 mile marker. It is not unusual to see an unmarked vehicle shooting radar with an additional 4 or 5 troopers as pickups. Being the 3rd or 4th car in line won't help you.
I-85 Speed Trap. Duncan City Police are now actively on the interstate at Hwy 290 between Greenville and Spartanburg. If you have a Duncan speeding ticket call Wayne Patterson, Duncan traffic attorney at 864-270-7973. Mr. Patterson also handles all Spartanburg speeding tickets.
I-95 Speed Trap Ridgeland Photo Radar Cameras
Ridgeland in Jasper County near the Georgia border has installed photo radar cameras on I-95 in South Carolina. My understanding is that they are set to trigger at 85mph. They take your picture and then your tag and the town sends you the speeding ticket in the mail. While there is some question as to the legality of the procedure, the town is generating quite a sum of money for its general fund. A class action lawsuit was filed against the town and I am not sure if they are still using the radar van now or not.
Pay Ridgeland Speeding Ticket Online
COST OF A SC SPEEDING TICKET
Currently the lowest fine is $75.00. Some cities and counties will accept payment of your ticket fine online. If you decide to pay your ticket, be sure you know the consequences to your drivers license and your insurance rates before making a decision not to contest. The cost of an attorney to fight your SC ticket may be your best option. Call one of the SC traffic lawyers listed above for a free consultation before you pay.
Click on the link below to see if your South Carolina Traffic Fine can be paid online.
Pay South Carolina Speeding Ticket Online


New South Carolina DUI Laws
South Carolina has enacted tougher laws on driving under the influence. It simply doesn't pay to drink and drive. The financial costs are enormous and you are now very likely to spend some serious time in jail. If you are arrested for a South Carolina DUI, consult one of the SC DUI attorneys listed above.


Search for more South Carolina Speeding Ticket help or South Carolina traffic lawyer

SOUTH CAROLINA HIGHWAY PATROL
Receiving a speeding ticket may not be one of your most pleasant experiences. However, SC State troopers are professionals that serve the public under very difficult circumstances. Always be courteous and polite. Almost all officers now have body cameras that will record everything that you say and do so don't do anything that you don't want shown in open court.  
ASK A QUESTION ON ANYTHING

Ask a Question! Do you have a question ON ANY SUBJECT? JUST ANSWER has people online to answer your MEDICAL, PET, APPLIANCE, AUTOMOBILE questions
RIGHT NOW!!!
NOTICE !!! ONLY AN ATTORNEY LICENSED IN YOUR STATE CAN PROVIDE YOU WITH LEGAL ADVICE
                              NOTICE!!!!

This may be considered AN ADVERTISEMENT or Advertising Material under the Rules of Professional Conduct governing lawyers. Under no circumstance will Speedingticketcentral be held liable for any loss or damage caused by a visitor's reliance on information obtained through this web site. It is the responsibility of each individual visitor to evaluate the accuracy, completeness or usefulness of any information, opinion, advice or other content. Speedingticketcentral is intended to provide you only with general information. However, there is no guarantee that this information is comprehensive or accurate. Speedingticketcentral does not provide legal, financial, or tax advice. Please consult a professional in these areas. Links and Ads to third party sites are here for the convenience of site visitors only. The content of any third party site which visit via a link from this site is solely the responsibility of the provider of that web site.