Truck Driver Entry into Canada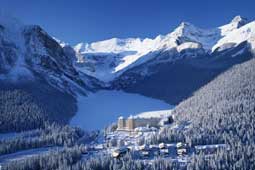 Canada is a beautiful county and there are reports that there is a high demand for truck drivers. Carolyn and I had the opportunity to tour the western part several years ago including Banff National Park pictured above.
It is a beautiful county and the Canadian people were extremely friendly and helpful. We were amazed at how clean the county is and the lack of litter. We took the train form Vancouver to Calgary and recommend that you consider that trip in your vacation plans.
We get a lot of requests for information on the requirements for a truck driver to cross the border into Canada. This is becoming more difficult as security levels have increased. Your trip will be much easier and quicker if you have the proper paperwork prior to trying to cross the border.
Truck drivers seeking entry into Canada who have a past criminal background including DUI can now apply for rehabilitation. If the offense is over 10 years old you are automatically considered rehabilitated but you still may have trouble convincing the border guard.
For more information check out the Canadian Truck Driver Entry information at the following sites. If your offenses qualify under the 10 year rule you may want to try applying for the FAST or CDRP Canadian truck driver registration cards. Many companies will require that you be enrolled in FAST in order to be considered for hire as a truck driver.
Canada Truck Driver Rehabilitation
FAST Truck Driver Registration
Here is some more information for truck drivers entering into Canada.
Hours of service: Canada used to have a law allowing 13 hours driving in any 24 hour period, split up with rest periods of 2 hours or more. This was the case 10 years ago-it might not be the same today.
Weight limits: Since weights in Canada are measured in metric measurements, please know that 1 tonne=1000kg=2200lbs. You are allowed 40 tonnes on a typical American 5-axle rig, which means 88,000lbs total. Any axle is allowed 22,000 lbs. Most places in Canada allow a maximum of 9 axles.
Dimensions: Height and width measurements are in meters. 1 meter=3.27', so 13'6"=4.128m, and 102"=8'6"=2.60m
Money: The Canadian dollar is currently worth about 94 cents US. Your best place to exchange money is right at the border crossing, on the Canadian side, at a currency exchange location. Most border crossings have these.
Speed limits: Speeds are listed in km/h, with 100 km/h=62 mph, 80 km/h=48 mph, etc. Speed limits are quite often ignored in most of Ontario and Quebec. Speeds of 150 km/h are regularly seen on the 401 in Ontario.
Fuel: Diesel is sold by the liter. 3.6liter = 1 US gal.
Taxation: There is a national sales tax called the GST, which is 7% everywhere. Additionally, there is a provincial sales tax. In Ontario, this is 8%, meaning that there is a 15% tax on nearly everything you buy. Some of the Atlantic provinces have even higher taxes.
Firearms: Don't even think about bringing a gun into Canada. It is illegal. If you get caught, you go to prison. Even pepper spray is not allowed.
Porno: Don't have any in your truck or you will be detained.
Special considerations for the province of Quebec:
This province is officially French-speaking. you will find anglophones in most urban locations, but few in rural communities.
CB radio: The favorite channel for francophone drivers is channel 12
Signage: Here are some signs you may see, and the rough translation:
Risque de Brouilliard: Risk of Fog
Materiels Dangerous Interdit Dans le Tunnel: Hazmat not allowed in the tunnel
Allumez vos Phares: Turn headlights on
Vehicles Authorise Seullement: Official vehicles only
Remorques Vide: empty trailers
Remorques Charger: loaded trailers
Sortie: exit
Train Routier: roadtrain or turnpike doubles
Est: east
Ouest: west
Nord: north
Sud: south
Pont: bridge
Period Degel: Thaw period. During this time, all weight limits are reduced 20%. This lasts 6 weeks every spring, and is announced by a small white sign with black letters sayin "Degel", when you enter a region.
You are now allowed to turn right on red lights in Quebec, but not on the Island of Montreal. in certain areas outside of Montreal there are still places that don't allow right on reds, usually they have the picture sign, but they may also have a sign: Attendre le feu vert = Wait for green light
eMainfest
Canada has now started requiring commercial carriers to submit their information by eManifest at least one hour before arrival at the border. Here is information on the program and how to apply.
eManifest Portal Help and Support
Ottawa, Ontario, October 12, 2011 – The Canada Border Services Agency (CBSA) today announced that the eManifest implementation timeline for highway carriers will begin on November 1, 2011. This means on November 1, 2012, highway carriers that do not comply with the requirement to electronically transmit cargo and conveyance data ahead of arrival at the border will be denied entry and will face zero-rated (non-monetary) penalties. Subsequently, on May 1, 2013, highway carriers that do not comply with the requirements will be denied entry to Canada and face monetary penalties.
Canadian Border Crossing Paperwork
Much of the following information may be out of date now that Canada has started requiring use of eManifest. However, I am leaving it up in case it may be of some assistance.
Southbound: First thing you need to do is make sure you have all the commercial invoices and anything that says where the stuff is made. Next you will need a blank (some places have a partially filled out) Inward Cargo Manifest (ICM) form. Fill out the ICM as follows: Box 1 is where you put the year, make and plate number (not unit number) of your tractor. Box 2 is where you put your name. Box 3 is where you put your company's name and address in full. Box 4 is where you put the city, town, village where you loaded the load, or if there is a switch involved, the place where the trailer was loaded. If more that one location then put 'Various'. Box 5 is where you are taking the load. Follow the instructions for Box 4. Box 6 is where you put the name of the border crossing you are going to use to enter the USA. YOU MUST PUT THE AMERICAN CROSSING THERE. Box 7 with the date you are crossing. Columns 1, 2, 3 and 4 are your next places you need to fill out. DO NOT use Column 5. If you have more than one shipment then you need to separate the lines with a blank line. Column 1 is where you put the Bill of Lading or Commercial Invoice Number. Column 2 is there you put the plate number (not unit number) of your trailer or trailers, depending on which trailer which shipment is on. If your shipment is on both trialers, then put both plate numbers with the '&' to attach them together. Column 3 you will need to put what it is you are carrying. You put the piece count and on how many pallets, skids etc, and exactly what it is, and the weight of the load, and the value of the load in dollars and indicate USD OR CAD. Column 4 is where you put the receivers name and address. Down at the bottom of the form just above the date and signature line is another blank. This is where you but the Customs Brokers name. The date line at the the bottom is the date you filled out this form. It DOES NOT have to match the date in Box 7. The last step is to sign it.
Now if you have PAPS stickers, NOT PARS, then attach one to the ICM and one your Commercial invoice and fax to the Customs Broker. Hit the line like you have a 'Line Release' and way you go.
Line Release is a bar code that the shipper has attached to the Commercial Invoice. Not all shipments are Line Release.
If you do not have PAPS then stop before the border at the truck parking provided and go walk into US Customs and say you need to see your Broker. After a few questions they will let you procede to your Broker. Take you paperwork with you, unless you faxed it ahead (even without PAPS). Get you paperwork from the Broker and go back to your truck and then head for US Customs with the unit.
Northbound: BEFORE YOU LEAVE THE SHIPPERS make sure you have a Commercial Invoice that lists the 1) Country of Origin 2) Value of shipment 3) Currency type 4) Piece count 5) you know who the Customs Broker is or that you have confirmation that the paperwork has already been sent ahead.
PARS: Attach a PARS sticker to the Commercial Invoice or you Bill of Lading. MAKE SURE THAT YOU DO NOT COVER UP ANY WRITING. Fax this to the Customs Broker and make a second copy. You will need two copies of this when you reach the border. When faxing to the Customs Broker, attach a cover letter stating which Port Of Entry (POE) you are using. USE THE CANADIAN NAME FOR THE CROSSING. The ETA at the POE. Arrive at the POE and present you PARS paperwork and let it all happen from there.
No PARS: Filling out an A8A form. This form is used to get into the Customs compound so you can get to your Customs Broker. Fill it out as follows, US Port of Exit is the name of the US side of the crossing you are at. Manifest from is the Canadian crossing you are at now. Manifest to is the crossing you are at now. This would only be different if you are going In Bond to another location. Consignee Name and Address is where you put that information. If more than one then use 'VARIOUS'. Shipper Name and Address is where you put that information. Again if more that one, use 'VARIOUS'. No. of pkgs. is the piece count, NOT skid or pallet count. Description or Marks is where you put down what it is. Weight is where you put how heavy the load is. Do not worry about Rate, Advances, Prepaid, or Collect. Foreign Port of Lading is where you put the city, town, or village where you loaded this. Use 'VARIOUS' for more that one location. (Most times this is the same as the location in the Shippers block) Name of Carrier is the trucking companies name you are driving for. Location of goods is where you put the plate numbers of your truck and trailer or trailers. Do not worry about the Vehicle Identification block.
Now if you are going In Bond you will need the 5 decals that have the same number on all of them (looks like a PARS decal) and put one on each of the A8A forms in the Carrier Code block. Some carriers have them already preprinted on their A8A forms.
Much of the information on this page is from contributors to the Class A Truck Drivers and "https://www.truckersforum.net/forums/canadian-trucking.199/">TruckNet Forums. If you have additional questions these forums are an excellent source of information on Canada or any other truck driving questions.
Ask an Expert! Do you have a legal question ON ANY SUBJECT? We have experts online to answer your LEGAL question RIGHT NOW!!! A Deposit is Recommended.
Canada Border Services
Canada Border Services
Calls within Canada (toll free)
English: 800-461-9999
French: 800-959-2036
TTY: 866-335-3237
Calls from outside Canada
(long-distance charges apply)
English: 204-983-3500 or 506-636-5064
French: 204-983-3700 or 506-636-5064

Search for More Trucker Information on Canada


Custom Search
Under no circumstance will Speedingticketcentral be held liable for any loss or damage caused by a visitor's reliance on information obtained through this web site. It is the responsibility of each individual visitor to evaluate the accuracy, completeness or usefulness of any information, opinion, advice or other content. Speedingticketcentral is intended to provide you only with general information. However, there is no guarantee that this information is comprehensive or accurate. Speedingticketcentral does not provide legal, financial, or tax advice. Please consult a professional in these areas.